All they need to perform early reading and math!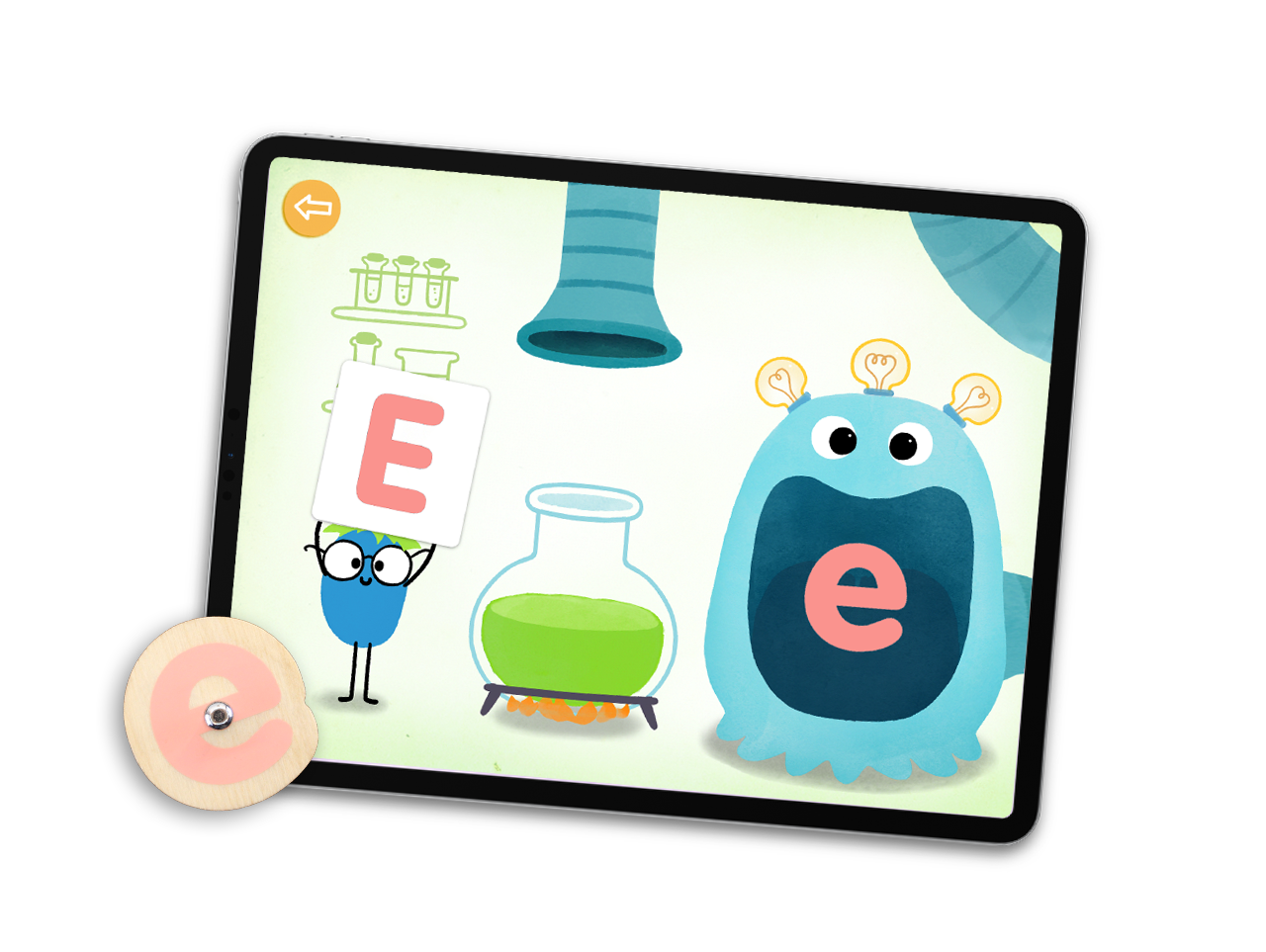 WHY ARE EARLY READING AND MATH SO IMPORTANT?
Did you know that early literacy and math skills are the greatest predictor of your child's academic success?
Kids who can read well by third grade are four times more likely to graduate high school. Yet, by third grade, 67% of U.S. children do not read at grade level. Marbotic focuses on foundation skills: reading, writing, and arithmetic.
Discover below the curriculum covered in our app.
Learning to read is an exciting journey that starts early! Every milestone is key, and must be absorbed by children one after the other. Marbotic's program, based on structured literacy learning, teaches the structure of language through the following pillars:
✔️ Knowledge of letter-sound association
✔️ Understanding of syllabic composition
✔️ Possessing a rich vocabulary
The Marbotic program works on these 3 pillars in different activities embedded in the app.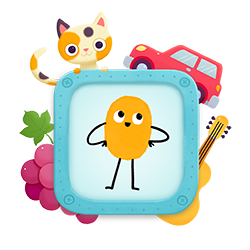 Why is vocabulary important for learning to read?

If you want a child to start decoding a word when reading, knowing the word beforehand is a prerequisite. The number of words a 3 year old knows varies greatly from child to child. Cognitive science has proven that the more words a child knows before they start to learn to read, the faster they will master reading.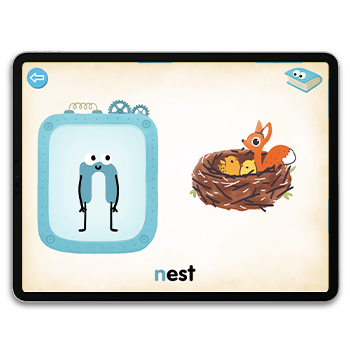 How does Marbotic app improve children's vocabulary?

Our method includes more than 200 words that are regrouped across 5 different lexical fields: animals, food, home, outdoor, transportation.
Our vocabulary activity is one of the easiest to start with, even for younger kids. It's a sandbox activity, meaning there is no right or wrong. Kids are prompted to complete an ABC book. Each word is beautifully illustrated and a fun and unique animation happens when a word is discovered.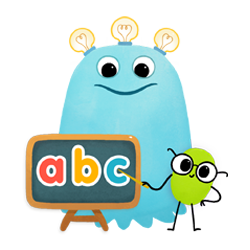 Why is letter-sound association important for learning to read?

A letter has a name, but it is also associated with a sound. "A" is associated with the sound "aaa", as in "apple". Letter-sound correspondence is one of the foundations of the Montessori approach, where kids start to recognize letters by their sounds.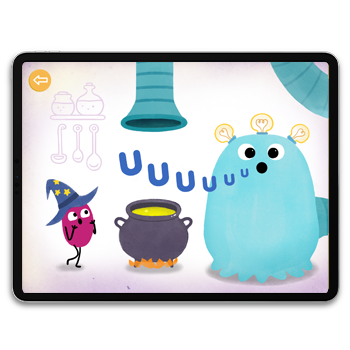 How does Marbotic help kids master letter-sound recognition?

Each letter has different characteristics: an uppercase form, a lowercase form (they are called graphemes), and also an associated sound. Some letters might also have different sounds depending on the context (for example, "g" in "garage" and "giraffe"). The ABC activity helps kids walk a scaffolded path towards the mastery of all letters of the alphabet, with different groups of letters. Kids first get to recognize letter forms (only), then they gradually start to identify letters by their sounds, and then by the illustration of a word starting with the given letter.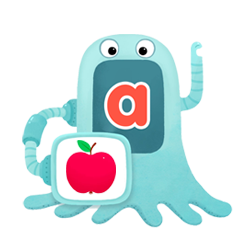 Teacher's favorite ABC learning game

While the ABC section is highly gamified and engages kids through a fun puzzle completion, Alphamonster section is designed as a sandbox, for teachers who want to use their own scope and sequence and target some specific letters for individual students. This section is highly customizable, which is really helpful for kids with specific learning disabilities such as dyslexia

.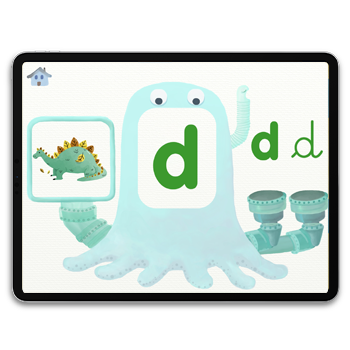 In Alphamonster, you can choose the letter you want to play with. You can start to focus on the letters of your student's name, or on the most common letters, and introduce more letters along the way. You can also choose whether you want the Monstromachine to say the letter's name or the letter's sound. In the free mode, you can choose as well singing sounds (very funny!) or short sounds (more accurate when working on pronunciation).
Finally, you can choose if you want to see lowercase in print and/or cursive!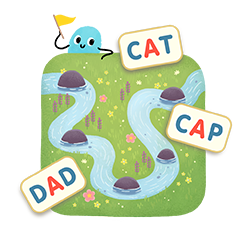 Why are CVC words and sight words a good first step for reading?

CVC stands for Consonant-Vowel-Consonant, it's words like BIG, BAG, BUG… CVC are an excellent entry to reading as their structure is normalized and easy to decode.
Sight words are sometimes irregular or composed of more advanced phonics, but they are high-frequency words that are very useful to read first sentences.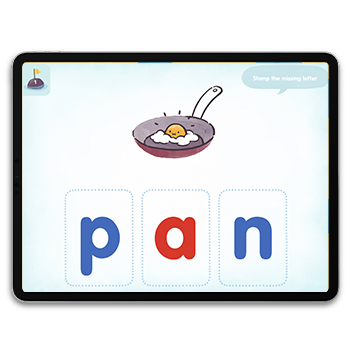 How does Marbotic teach kids to read CVC words and sight words?

This section has a detailed scope consisting of 10 sequences, to be able to read more than 200 CVCs. In each sequence, kids are prompted to
identify vocabulary words;
identify the first/middle/ending sound of a word; s
tamp each letter to build a CVC;
read aloud a CVC;
get to know sight words.
At the end of each sequence, the kid is able to read a simple sentence composed of CVC words.
Understanding the way words are built and can be decoded sound by sound is the basis of structured literacy. It's a method that cognitive science has recently proven to be the most effective when starting to read.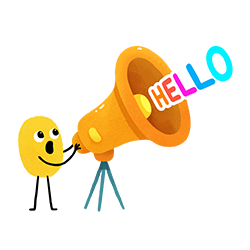 Why does building words help kids learn to read?

To start building words, a child first needs to understand what a syllable is. A syllable is a unit of pronunciation, and words are composed of several syllables, like a string of beads in a necklace.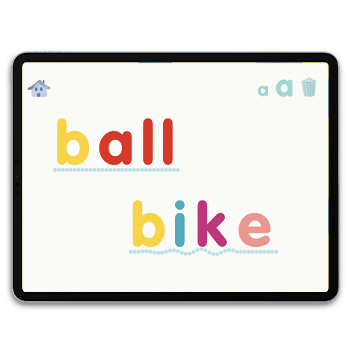 How does Marbotic help children learn to build and write words?

The Build Words section is a sandbox activity that lets kids stamp letters and read aloud the sounds of the letters, and the sound of the syllables they are forming. It is powered by a text-to-speech engine, meaning kids can also create their own fantasy word and hear it being spoken. This section is also a teacher's favorite, as it can be used as a powerful tool to revisit vocabulary words learned in the classroom.

Math is everywhere in our daily life, and most of the time, we don't even see it! Understanding math concepts is a master skill that kids must acquire from a young age. Marbotic program relies on Montessori principles to make math as concrete as possible, thanks to visualization and manipulation.
It covers:
✔️ Counting to 10 on fingers
✔️ Associating numbers and quantities
✔️ Understanding units, tens and place-value
✔️ Build numbers up to 100
✔️ Addition and subtraction
10 FINGERS: COUNTING ON FINGERS

Why is counting on fingers so important?

Counting on fingers is natural and a very good introduction to basic math
. After all, the basis of our decimal system comes from the number of our fingers!
Research has proven that finger representation improves arithmetic knowledge such as counting and number ordering.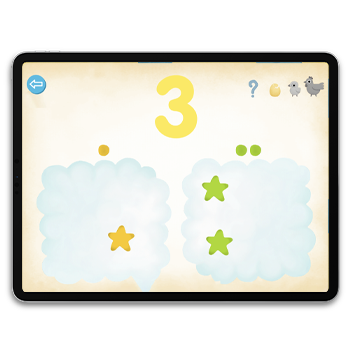 How does Marbotic help children count to 10?

The 10 Fingers section contains several sandbox activities designed to help kids make fluid correspondence between different ways of representing numbers.

A number can be represented by a quantity of fingers,

a quantity of objects (it is called a collection of objects),

a digit,

and also a pronounced word.
10 Fingers is a teachers' favorite, as it is highly customizable thanks to numerous settings. For instance, you can choose the numbers you want to play with: start with small numbers (1-2-3), then introduce bigger numbers gradually.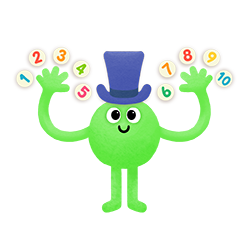 Why should math start with counting to 10?

Knowing digits is the first step to enter math. But if your child is able to sing the counting song up to 10, it doesn't necessarily mean that they know how to count properly.
Counting is knowing the correspondence between numbers and quantities, identifying the shapes and names of numbers and how to associate them with item collections. It is actually understanding the meaning of numbers.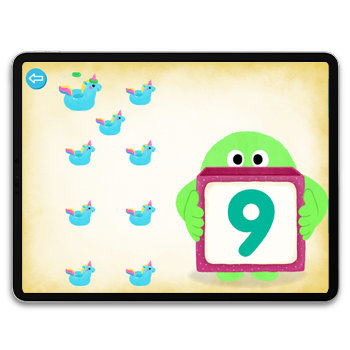 How does Marbotic introduce kids to math?

Count to 10 focuses on knowing numbers from 1 to 10. While 10 Fingers is a freestyle, sandbox activity, Count to 10 is more guided, ideal for independent play.
Count to 10 is composed of 22 scaffolded difficulty levels to introduce small numbers first (1-2-3), and gradually introduce 4, 5, and then bigger quantities up to 10.
Number decomposition is also included, as a preparation for addition and subtraction.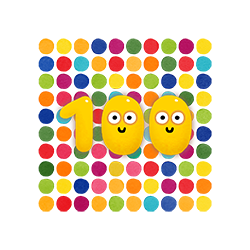 UP TO 100: UNITS AND TENS

Why is it so important to understand the concept of units and tens?

Once digits are acquired, children are ready to understand how bigger numbers are made, using tens and units.
Learning to manipulate mentally tens and units is the first step to understanding place-value, which provides the foundation for learning all kinds of operations. It is the most important building block for number sense.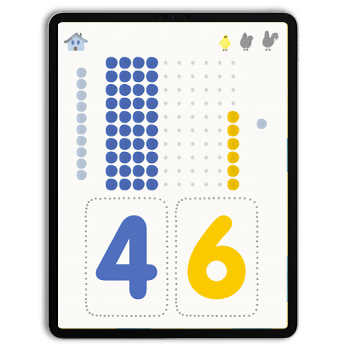 How will Marbotic teach place-value to children?

Up to 100 is directly inspired by one of the most beautiful Montessori materials: number beads. A unit is represented by a single bead, and a ten is represented by a string of 10 beads.
A compelling sandbox activity lets children manipulate tens and units to build the number they want, or alternatively stamp digits and see the corresponding quantities appear. We have seen 3 years olds fascinated by this very activity, playing it again and again!
CALCULATE: ADDITION AND SUBTRACTION

Why introduce addition and subtraction at preschool age?

You may have experienced that preschool-aged children naturally have intuition of what addition and subtraction are, but it is important to introduce those concepts the appropriate way, to make them as concrete as possible.
Understanding addition and subtraction is very useful in daily life, and it is also the first step for more complex operations such as multiplication and division.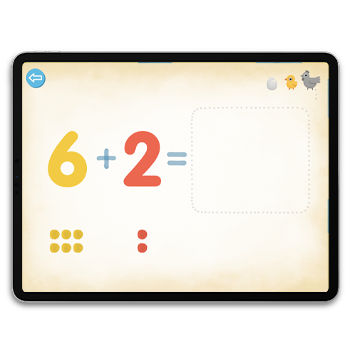 How does Marbotic teach addition and subtraction the right way to preschoolers?

Preschool teaching must adapt to younger brains that are yet unable to grasp abstract concepts. This is why the activity Calculate uses beads (again!) and Montessori principles (again!) to help visualization.
By representing units that reunite, or on the contrary, hungry little monsters

"

eating

"

beads, Marbotic literally shows what happens when two quantities are added or subtracted. Thanks to advanced settings, you can choose the interval of the results in the addition and the interval in subtraction.

"Best learning app for kids"
"My son was almost 3 when he discovered this app at the Apple store. He enjoyed it so much and learned faster. He was showing us addition, subtraction and multiplication problems and some basic algebra. Now that he is 4 and exploring the letters he can spell and read a little. Thank you Marbotic.
It's the best learning app for kids!"
- Lucille Dizon
"Really makes learning FUN"
"This is a wonderful toy!!! It really makes learning FUN. My granddaughter loves playing with it and it's helping her with letter recognition and sounds. Though technologically loaded,it is child (& grandmother) friendly. I've worked with an early intervention program that continues to emphasize the importance of learning being a child's PLAY, and this product truly does just that!"
"It's helped Caleb with counting"
"Anyone else having trouble finding new and creative ways to teach their preschoolers? I know it can be so hard finding new ways to help them learn and keep them engaged. That's why Marbotic is a must have! Their wooden letters and numbers work with your iPad to teach your child in a new and interactive way! It's helped Caleb with counting and recognizing numbers as well as adding and subtracting."